MTS Dermal Rollers for home use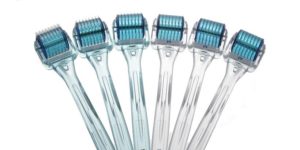 Clinical MTS Roller is versatile treatment alternative – applied to a wide range of skin conditions including
–depressed acne scarring,
-surgical scars,
-sun-damaged skin,
-uneven skin texture,
-uneven skin coloration (pigmentation),
-wrinkles and "smile" lines,
-stretch marks, and cellulite
Features of MTS Roller™
-MTS Roller is cost-effective compared to conventional treatments – in some cases, less than 10% the cost of other treatments like laser resurfacing.
-MTS Roller lasts longer than other rollers – patented design and superior materials gives MTS Roller twice the lifespan of most other roller brands – up to 6 months if you follow our simple cleaning and care instructions.
-MTS Roller is the highest quality roller on the market today – only MTS Roller is made from surgical quality Lexan (compare with other rollers made from ABS plastic or resin), and the highest quality surgical steel available in the world(3).
-MTS Roller is a safer product than other rollers – manufactured under strict ISO9001 standards in our own high-tech clean room facility.
Key Points
There are no known negative side-effects
Collagen induction through controlled mechanical stimulation of skin
It can be used on thin skin
It can be used on face, neck and body
Realignment of old collagen bundles
Complete preservation of the epidermis during the procedure
No permanent damage to the skin, no pain during procedure
No bleeding, infection, discoloration or other complications on the treated area
Recomended to boost the effects before and after a Medical Collagen Induction Therapy
This type of needling can be used inconjunction with other treatments (e.g. Laser therapy)