Deco Mineral Make Up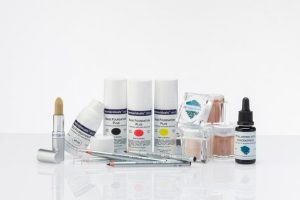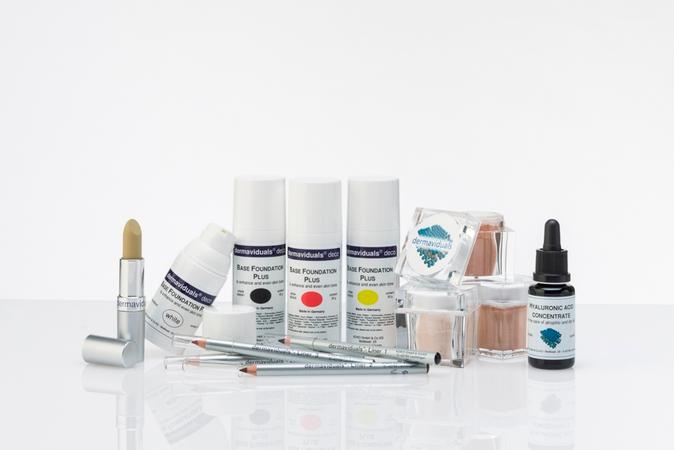 Bespoke Base Foundation Plus
Customised mineral foundation which goes beyond skin care.
Bespoke foundation with high-quality skin caring substances (Jojoba oil, Squalene, Agrilla – Italian White Clay, Vitamin E, Vitamin C, Castor oil) and natural pigments. It doesnt contain any nasties and is pure, skin compatable just like rest of the Dermaviduals skin care products.
Bespoke Base Foundation Plus is customised to suit your exact skin tone. It is colour corrective, light diffusing, water retaining, anti-inflammatory, oil absorbing, mattifing and creates a smooth, soft texture on the skin to improve the skins appearance.
This product is perfect for problematic skins, struggling with Acne, Rosacea, Eczma ect.
One light application is great for a natural look, while applying a second application will give full coverage. It sits with your skin not on your skin ensuring beautiful and healty look.
Dermaviduals loose mineral powder
Dermaviduals loose mineral powder will ensure flawless coverage.
The micro-porous surface of dermaviduals®-teramic provides an excellent absorption of perspiration and sebum. On the other hand the particular combination of the powder base supports the moisture binding capacity of the skin.
The specific composition of dermaviduals®-teramic also enhances the diffusion of the reflected light out of uneven spots like scars or wrinkles which leads to a visible smoothening and an even appearance of the skin.
The application of dermaviduals®-teramic results in a so-called soft focus effect. The micro-relief of the skin will be improved considerably. Thus, even on atrophic and dry skin irregular spots may be concealed with the effect that the skin still has a natural appearance.
The powder is very well tolerated even on hypersensitive or dry skin as well as on skin with barrier disorders or after esthetical surgery.
Cover and Conceal
The green shade neutralises reddened skin tone.
The soft and gentle stick contains mineral pigments and natural colours dispersed in vegetable oils and waxes. Bisabolol, the main active agent of camomile, shows anti-inflammatory and zinc oxide antiseptic properties. Vitamin C and E are antioxidants.
Cover and Conceal is used on reddened parts of the skin. It is ideal for preparation of sensitive, irritated skins possibly in conjunction with small amounts of Liposome Concentrate Plus (antibacterial: Acne, Rosacea) or Kiwi Seed Oil Nanoparticles (anti-inflammatory: irritated skin).