The gift that keeps on giving.
Purchase a Pure Skin Clinic Gift Voucher by 'clicking' the Gift Voucher below. Once your payment has been processed, your chosen recipient will get the voucher electronically sent to their email address.
See our available treatment list here and book online.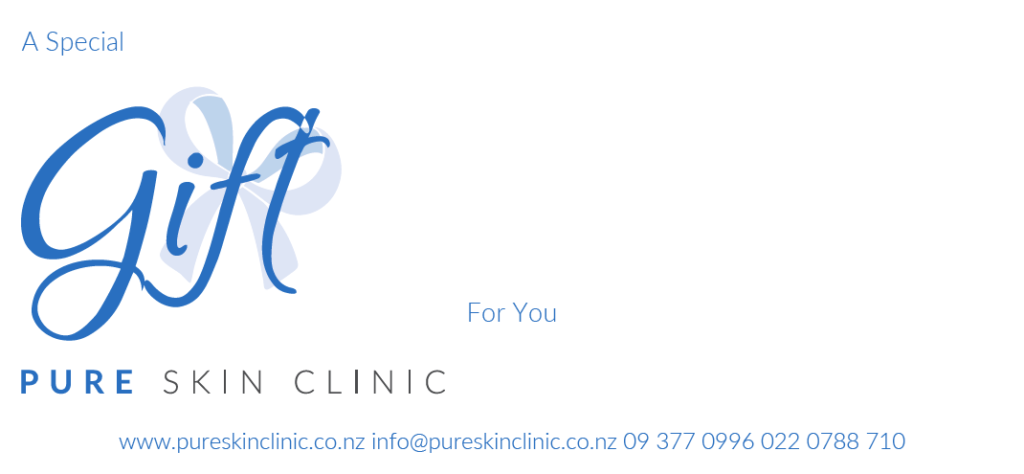 PURE SKIN CLINIC is outstanding
PURE SKIN CLINIC is outstanding! Liga is extremely helpful and professional and has helped me clear my skin so quickly, I have been amazed with the results. The treatments and skin care provided has exceeded all of my expectations and I recommend Liga and the PURE SKIN CLINIC to everyone.
Prue
best experience you can ever have
Liga and her clinic are the best experience you can ever have. I would rather spend an hour there than a whole day somewhere else. She is very professional and also the level of knowledge about her work is absolutely amazing. No more words, just visit the clinic and you will love it.
Anna
Highly recommend Dermaviduals
"Before using dermaviduals my skin was prone to breakouts. I was prescribed a daily facial skin routine using dermaviduals, and after a few weeks I began to notice a difference in my skin. After 10 weeks using dermaviduals, my skin has never felt and looked better. As I am constantly in the sun and sweating playing tennis, a good daily facial skin care routine is extremely important and I am very lucky to have found dermaviduals. I love the simplicity and ease of using dermaviduals as it doesn't take up too much time in my day. I would highly recommend this product to anyone who wants a skin care product designed especially for their skin."
Casey
Liga is the skin whisperer
Liga was the best person to see about my skin! She is truly the skin whisperer. Thank you Liga for helping me get my skin sorted.
Jo
Highly Recommend
"Had my eyebrows done and I'm super happy with the results!! They look so natural! Liga made my eyebrows fuller and filled in the gaps that I had! Not to mention how at ease I felt around her, such a lovely lady. I highly recommend going to her to get your eyebrows microbladed."
Kristen
most knowledgeable therapist
"Liga is possibly the most knowledgeable therapist around. What she delivers is truly beyond beauty, an amazing personalised service where you leave feeling not only relaxed and rejuvenated, but thoroughly informed about your skin and how to glow from the inside out."
Ayse
Very Professional
"I've been going to see Liga a few years now. She is very attentive to my health and beauty needs and she is extremely professional. Liga gives great advice and I feel she genuinely cares about her clients. Liga's clinic is spotless and has the latest machines and techniques. I always feel in good hands when I visit Liga and I know she has my best interest at heart."
Ana
I'm absolutely thrilled with my perfect brows
Liga is one in a million! I've had my brows tattooed a couple of times and liked them but Ligas work is perfection! I'm so happy and can't stop raving!
The premises are immaculate and inviting. I was so impressed with Ligas knowledge and professionalism. She is so warm and kind and made me feel completely at ease.
Karen
Professional Advice
"I had my eyebrows done by Liga after having gone to another place for microblading. The previous place did a terrible job and I was hoping Liga could help me fix them. She did a very thorough assessment and gave me professional advice on what she could do. I did 2 sessions with Liga and not only did she manage to fix my eyebrows, they now look absolutely splendid!!! I love them!! I have already recommended her services to many of my friends, she can really be trusted !!!"
Marie
Liga is the most knowledgeable therapist
Liga is the most knowledgeable person I have ever met when it comes to skin treatments. I have been doing facials for more than 20 years all over the world and I have never had such a quality of services and advice before. She has been trained in Europe, uses fantastic products and is the best at choosing what your skin needs.
I have recommended her to dozen of friends already !!
Marie
Līga created a program to mange my skin
I can highly recommend Līga @ Pure Skin Clinic. After an initial consultation Līga created a program to mange my skin. She is extremely professional and shares soo much knowledge which leaves you not only feeling great, but full of confidence too. My only regret is not doing it sooner!
Scott
Liga is very professional
Went to Pure Skin and was totally impressed with the services I received and the pricing. Liga is very professional, explains everything and makes the whole experience totally wonderful!
Carolyn
knowledge and high quality service
I think we all forget that people like Liga invest tens of thousands learning the best and latest techniques because they believe in being their best. In Liga's case, she's travelled internationally frequently for this knowledge.
Undoubtedly, with thousands of hours experience with different skin types and face shapes, she likely already knows what's best for you, even if you have other ideas! I recommend you listen to the expert!
You're not just paying for a skin treatment or a beauty highlight with Pure Skin Clinic. You're paying for an international beauty experience.
Felicity
Liga transformed my skin
Liga is a GODSEND! She has transformed my entire confidence from inside out. I believe your skin is your biggest investment and with the program that Liga has recommended me, I have seen a complete change in my skin's appearance with it's tone, texture and glow.
Liga is deeply passionate about what she does and has such knowledge and compassion for her clients. She truly wants what's best for them and it starts with believing in themselves to get amazing results! She has simplified my whole skin routine so it's quick, easy and manageable with my busy schedule. I love all the products as they are tailored to your skin type which is perfect and so customized!
She is such an amazing, kind and supportive person who I always look forward to seeing! I recommend her to anyone I can, as I know how much it can change your life for the best!
Sheila xxx
Liga never stop impressing with wisdom and advice
I went to Liga with no expectations, but even if I had some – she would have blown them away. Liga is amazing!! Her knowledge in not only your skin but food and lifestyle and how it effects your skin is outstanding! She is very kind and gentle with high level of professionalism. She never stop impressing with wisdom and advice. I would highly recommend anyone to see Liga!!
Ida