Pure Skin Clinic: the only Auckland clinic offering light therapy with a MAX+ LED light machine
Light therapy services for clients throughout Auckland Central, Remuera, Ponsonby and Newmarket
The award-winning MAX+ LED is the latest in light therapy technology. Created in Montreal by Jennifer Brodeur, (aka the Skin Guru, facialist of Oprah and Michelle Obama), it will take you to the next level of skin rejuvenation.
Pure Skin clinic is currently the only clinic to have the MAX+ LED light therapy machine in Auckland.  MAX+ releases different coloured wavelengths of light that penetrate the skin. The layers of the skin are comprised of a high content of blood and water which allows them to easily and readily absorb and accept the light. Once absorbed into the skin, the different colours encourage cell communication and to rebalance, heal and rejuvenate the skin. This is proven to be hugely successful as a treatment for scarring and helps minimise the visible signs of ageing, reduce breakouts and acne scarring and repairs the skin's barrier.
Highly recommended for :
ACNE

SCARRING

ROSACEA

DERMATITIS

SENSITIVE SKIN

PIGMENTATION

AGEING SKIN

DEHYDRATED SKIN

REACTIVE SKIN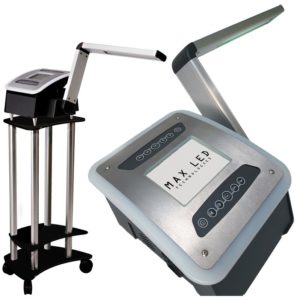 MAX+ LED Light Therapy is painless, non-invasive and a very powerful treatment that can be used as a stand-alone treatment or incorporated with other treatments,  for skin rejuvenation, wound healing, pain reduction and a variety of other conditions.
This therapy has been used in the medical, sports (physiotherapy) and the aesthetics industry for several decades. MAX+ is the only LED unit to have 7 frequencies of light which gives us much more scope to comprehensively treat, strengthen and heal the skin.
LED is exceptionally safe, with no downtime. It is painless and NOT a laser.
Max+ LED as a stand alone treatment or in conjunction with Microneedling Collagen Induction Therapy is great for those who want to minimise the visible signs of ageing, reduce breakouts, bringing clarity to the skin, repair the skin's barrier and speed up the skin's natural healing process to reduce redness, calm, and even out skin tone. 10 – 15 treatments are recommended for ultimate results to the skin. After that, maintenance sessions are recommended every 4-6 weeks and are a great facial addition.
For light therapy sessions in Remuera, Parnell, New Market areas, book your session today or visit our programmes and pricing page for more information.