Highly recommended for :
ACNE
ROSACEA
DERMATITIS
SENSITIVE SKIN
PIGMENTATION
AGING SKIN
DEHYDRATED SKIN
REACTIVE SKIN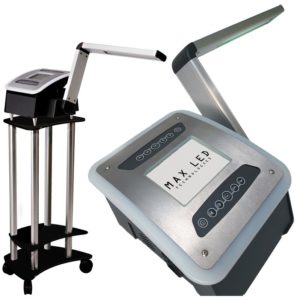 MAX+ LED Light Therapy is a painless, non-invasive and very powerfull treatment that can be used as a stand alone tretment or incrporated with other treatments, used post treatment for healing skin rejuvenation, wound healing, pain attenuation and variety of other conditions.
Max+ LED uses several specific coloured wavelengths that each help the skin in a different unique way. The layers of the skin are comprised of a high content of blood and water which allows them to easily and readily absorb and accept light. Once absorbed into the skin the different colours encourage cell communication to rebalance, heal and rejuvenate the skin.
This therapy been used in medical, sports (physiotherapy), aesthetics for several decades. MAX is the only LED unit to have 7 frequencies of light which gives us much more scope to comprehensively treat, strengthen and heal skin.
LED is exceptionally safe, with no downtime. It is painless and NOT a laser.
We use a high quality medical grade device with a lot of evidence to support it's actions.
Max+ LED is great for those who want to minimise the visible signs of aging, reduce breakouts bringing clarity to the skin, repair the skin's barrier and speed up the skin's natural healing process to reduce redness, calm, and even out skin tone. 10 – 15 treatments are recommended for ultimate results to skin. After that, maintenance sessions are recommended every 4-6 weeks and are a great facial addition.
For pricing visit our programmes and pricing page