Collagen Induction Therapy EXCEED Amiea MED
Discover the latest in microneedling that's exceeding expectations.
The amiea med EXCEED does exactly what the name suggests: it exceeds all expectations and technology of every other microneedling device on the market today. Backed by many clinical study, it has been proven to significantly improve :
Ageing skin (fine lines & wrinkles)
Pigmentation
Congested skin
Rosacea
Stretch marks
First FDA cleared,  med CE and TGA certified microneedling device for excellent results.
The device and needles are of superior quality and all manufactured in Germany.
Measured wrinkle improvements achieved with amiea MED EXCEED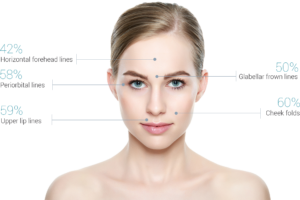 Measurements within the study: Wrinkles were assessed using the Lempel Grading Scale. Skin laxity and texture were assessed using a modified Alexiades-Armenakas Grading Scale. Digital fringe projections technology (PRIMOS) was used to determine skin topography of the periorbital and mesiolabial areas. (Source: Glynis Ablon, MD, FAAD. Clin Aesthet Dermatol. 2018; 11(8):29-34.)
Light Therapy MAX+ LED (Light Emitting Diodes)
Meet MAX + LED!
MAX is a award winning masterpiece of Jennifer Brodeur, JB SKIN GURU.
MAX will take your skin to the NEXT LEVEL of skin rejuvenation.
The layers of the skin are comprised of a high content of blood and water which allows them to easily and readily absorb and accept light. Once absorbed into the skin the different colours encourage cell communication to re balance, heal and rejuvenate the skin.
Max+ LED is great for those who want to minimise the visible signs of aging, reduce breakouts bringing clarity to the skin, repair the skin's barrier and speed up the skin's natural healing process to reduce redness, calm, and even out skin tone. 10 – 15 treatments are recommended for ultimate results to skin.
Electrolysis
Electrolysis removes hair while promoting lesser, finer hair growth over time. It works by passing a small amount of energy (a current) into your hair follicle through a very fine probe. This then produces a chemical reaction that destroys the cells at the base of the hair. Each hair is probed individually and then removed using tweezers.