Welcome to Pure Skin Clinic
Pure Skin Clinic is located in the heart of the city – Parnell, Auckland. Short walking distance from City Centre. It is the perfect place to visit for all your skin health and beauty needs.
The beautiful and spacious New York loft style clinic offers you a relaxed environment where you'll feel welcomed and well looked after.
At PURE SKIN CLINIC we offer advanced skin assessments using the latest, most precise technology available. We set individual treatment plans for your skin goals and needs. Easy payment plans are available for your convenience.
We offer a wide range of customised Dermaviduls skin treatments, MAX+ LED light Therapy, Collagen Induction Therapy, Micropigmentation and Essential Beauty and Grooming services.
PURE SKIN CLINIC is an exclusive stockist of bespoke Dermaviduls products for all your skin health and beauty needs, Dermaviduls Deco range, MTS dermal rollers and EyEnvy Lash growth serums and mascaras.
Meet Liga – the founder of PURE SKIN CLINIC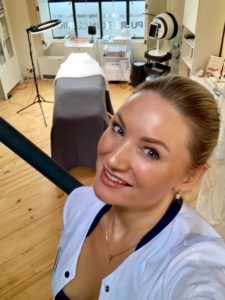 CIDDESCO, ITEC, Diploma in Beauty Therapy, Body Therapies, Electrology, IAC
I specialise in Corneotherapy, Advanced Skin Therapies, Beauty Therapy and Micropigmentation.
I bring a European holistic approach to skin treatments.
I have more than 8 years experiance in Beauty & Skincare Industry, both in New Zealand and overseas. My wealth of knowledge and industry experience ensures that you have the best possible experience every time. I take exceptional care of my clients, I have very high standards and magic hands.
My understanding of skin both internally and externally allows me to tailor and treat your concerns by guiding you through homecare advice, treatment plan and assessing your progress every step of the way.
I believe beautiful skin is healthy skin and healthy skin requires a healthy body and mind. I love empowering people and building lifetime relationships with my clients.
Remember it's not about the destination, it is about the journey!